History
Military
Built as a Douglas C-47A-65-DL, (c/n 18949),[2] at the Douglas Long Beach plant during October 1943, the aircraft was delivered to the United States Army Air Force on 19 October, 1943, and allocated U.S. serial number 42-100486, before being transferred to the 5th Air Force at Brisbane on 12 December 1943.
42-100486 was operated by 40th TCS (as 'Cheeky Charlie' with nose number '32'), 6th TCS (with nose number 'W514'), 67th TCS and 68th TCS, before being returned to 6th TCS at Tacloban.
Withdrawn from use and transferred to U.S. Foreign Disposals Commission in 1945, 42-100486 was sold to Australian National Airways on 17 August 1945, by which time the aircraft had flown 3,012 hours.
Civil use
Ferried Manila-Melbourne (Essendon) for conversion to civilian standards, it was converted to a DC-3C with seating for 21 passengers during the overhaul.[N 1]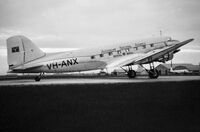 Entered onto the Australian Aircraft Register as
VH-ANX
(CofR 853) on 17 December 1945, as belonging to Australian National Airways Pty Ltd, the aircraft was named 'Tarrana' (kangaroo). On 31 July 1950, the aircraft was registered as a DC-3C-G202A, as it had been fitted with Wright GR-1820-G202A cyclone engines
Utilised by Butler Air Transport for short periods - (exact details are unknown) - VH-ANX was converted to full freighter configuration during 1957, and registered to Ansett-ANA in October.
Commencing weekly Ansett-ANA freight service between Cairns and Port Moresby on 10 March 1966, VH-ANX was leased to Airlines of South Australia in 1967, before being withdrawn from service at Essendon Airport on 9 May 1968.
Reregistered to Ansett Transport Industries (Operations) Pty Ltd on 18 December 1969, VH-ANX was sold to MMA on 1 March 1970, and delivered to them at Perth in freighter configuration two days later.
Used by MMA to mainly transport spare engines around the state as required, by 1971 MMA had no pilots that were DC-3 rated, and Ansett pilots had to be flown to Perth when needed. Sold to Australian Aircraft Sales (NSW) Pty Ltd on 12 March 1972, VH-ANX acquired Australian Aircraft Sales logo on basic Ansett 'delta' livery, and was ferried from Perth to Melbourne for storage during 12 - 15 March 1972.
Registered to Australian Aircraft Sales (NSW) Pty Ltd on 19 April 1972, and prepared for sale to Inter Island Transfer (Hawaii) Inc, the aircraft was entered onto the U.S. Aircraft Register as N99131 on 15 June 1972.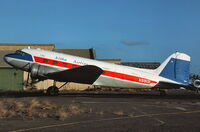 Departing Melbourne on delivery flight to Honolulu on 27 August 1972, N99131 arrived in Honolulu at conclusion of delivery flight on 30 August, at which point it was cancelled from the Australian Aircraft Register.
In December 1973 N99131 was registered to Inter Island Transfer (Hawaii) Inc, who had contracts to carry outsized tourist's baggage to island resorts. Transferred to Honolulu Leasing in June 1975, the aircraft was leased to Genavco Corp for cargo operations in April 1976.
Named 'Tyranna', N99131 was observed in a derelict condition at Honolulu Airport during September 1977. Registered to Genavco Corporation on 15 March 1978, the aircraft was observed undergoing restoration at Honolulu in September 1983, before being operated by Aloha Airlines Inc to celebrate that airline's 40th Anniversary in April 1988.[N 2]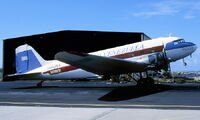 Observed at Honolulu with Air Venezuela titles as 'YVP-2PL4' in May 2001, N99131 was among the assets transferred to Kamaka Air Inc when they acquired Genavco in 2003. Withdrawn from use and stored at Honolulu in April 2004, N99131 was registered to Kamaka Air Inc on 11 April 2004, before being advertised for sale at Honolulu Airport on 28 April.
In September 2010, Pacific Aviation Museum, Pearl Harbour, expressed an interest in acquiring aircraft for preservation. N99131 was subsequently dismantled at Honolulu Airport in preparation for road transportation to the Museum on 12 April 2012, and was towed from Honolulu Airport to Ford Island by Hawaii Military Vehicle Preservation Association two days later, with the journey taking approximately 45 minutes.[3]
N99131 was subsequently painted in USAAF livery, with current civil registration in yellow near the tail.[1]
Notes
↑

It had been excluded from USAAF inventory due to its sale to ANA

↑

Aircraft had flown more than 51,000 hours by this date.
Sources
↑ 1.0 1.1 1.2 http://www.pacificaviationmuseum.org/pearl-harbor-blog/douglas-c-47dc-3-cheeky-charlie-7