History
After spending time with the 2759th Flight Test Group at Muroc AFB, CA, 49-2436 was passed to the 3077th Evaluation Group, at Edwards AFB, CA.[1]
On 26th March 1951, 49-2436 made a forced landing at Edwards AFB due to engine failure,[2] while being flown by William W Fincher.[3].(The listing on www.accident-report.com gives the location as George AFB). On 10th May 1951, while still at Edwards, 49-2436 was involved in an accident due to a ground fire.[2]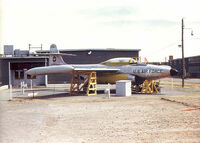 The aircraft was later assigned to Amarillo AFB, TX as a maintenance trainer.
[1]
References