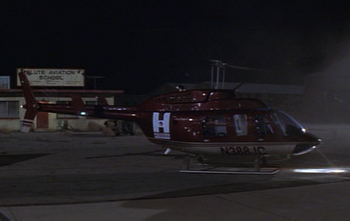 The Bell 206 is a family of a two-bladed, single or twin-engine helicopters, and one of the most popular light utility helicopters to be produced. Over 7,000 airframes have been built, with production running from 1967 - 2010. It was developed primarily as an observation helicopter for the U.S. Army, later being selected as the OH-58 Kiowa. It was introduced initially as a civilian model known as the JetRanger, with an improved stretched version designated the LongRanger.
This page lists identified individual airframes that feature in films and TV Shows. [N 1]
See also
Notes
↑ For the license-built variant, see Agusta-Bell 206.
Trending pages
All items (42)