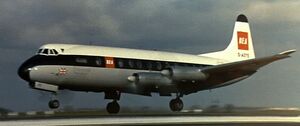 G-AOYS was a Vickers 806 Viscount
Appearances
Fantômas contre Scotland Yard.
History
Built by Vickers-Armstrong (Aircraft) Ltd as c/n 267,[1] G-AOYS became the property of British European Airways (BEA) Corporation on 20 December 1956, remaining in BEA service until 14 October 1971.[2]
On 22 October 1971, the aircraft passed to Cambrian Airways Limited,[3] who relinquished ownership on 30 March 1976, the day before ownership passed to the board of British Airways, who kept the aircraft until 12 May 1981.
Acquired by Panavia Air Cargo limited on 20 May 1981, and owned by them until 13 August 1984, G-AOYS served with British Air ferries Limited between 14 August 1984 and 30 November 1988,[4] when the aircraft and it's serial was permanently withdrawn from use.[1]
References
↑ 1.0 1.1 http://www.caa.co.uk/application.aspx?catid=60&pagetype=65&appid=1&mode=reg&fullregmark=AOYS