History
Built between June 1977[2] and 1980, the aircraft was registered as G-BBGL, under the ownership of private pilot Philip William Thomas,[N 1] who transferred ownership of the aircraft to Alan Leslie Burton on 9 January 1987.
On 23 April 1987, G-BBGL came under the ownership of Francis Joseph Ball, who retained it until the registration was cancelled by the Civil Aviation Authority on 11 June 2010.[3]
Destruction
At 17:45 on 12 June 1990 G-BBGL crashed at Sempringham Fen Airstrip, Lincolnshire, and sustained substantial damage to the airframe, engine and landing gear, after coming into contact with a crop of wheat on the runway's undershoot area and somersaulting onto the runway,[N 2] before coming to rest right way up.[N 3] Shortly after the impact, the cable between the full shoulder harness fitting and the fuselage mounting point failed. The pilot received minor injuries, and was able to vacate the aircraft unaided.[4]
Colour Scheme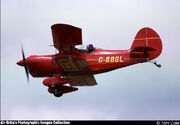 Originally painted in white with alternating red and blue tapering stripes, and blue registration letters, G-BBGL was repainted in an all over red scheme with yellow registration letters between 1996 and 3 June 2000, on which date the aircraft was photographed in the second scheme by Tom Cole, at the Finmere Vintage Aircraft Club Fly-in.[5]
Notes
↑

According to available records, this registration was actually issued on 2 May 1978.

↑

Designated Runway 27, this was a 550 yard long area with a smooth dry grass surface.

↑

At the time of the incident, the surface wind was reported as 360 degrees and 4-5 kts.
Sources