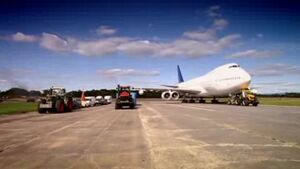 G-BDXJ is a Boeing 747-236B
Appearances
Casino Royale (2006).
Appears as the 'Skyfleet S570' prototype that Dimitrios' men plan to blow up.
Top Gear.
Ep.9.06.
Used in a challenge of towing power by the presenters. [N 1]
History
Built during 1980[1] as c/n 21831, G-BDXJ made it's first flight on 26 March 1980.[2] Named 'City of Birmingham',[3] the aircraft was delivered to British Airways on 2 May 1980, who operated the aircraft almost without incident[N 2] for 22 years, until it was transferred to European Skybus Ltd on 11 March 2002. Subsequently transferred to Juliette Ltd on 2 June 2004, the aircraft passed to Air Atlanta Europe Ltd on 7 December 2004, who retained ownership until 21 June 2005, due to withdrawal from use.[4]
Acquired by Aces High Ltd on 27 September 2005,[N 3] the aircraft was modified with two mockup engines on each inner pylon, and external fuel tanks on the outer pylons, (somewhat anachronistically resembling a B-52 Stratofortress), to represent the Skyfleet S570 prototype in Casino Royale (2006). This aircraft survives, permanently grounded and repainted plain white, at Dunsfold Aerodrome, England, where all the airfield action was filmed.[5]
Notes
↑

This aircraft is regularly seen in the background during the track runs filmed at Dunsfold for other episodes.

↑ A couple of minor incident reports were filed with the British government's Air Accidents Investigation Branch. One report from 1996 describes a vibration experienced after takeoff due to damage to the wing trailing edge, but the aircraft dumped fuel and made a safe return to the airport. Another incident in 2000 resulted in minor structural damage following a hard landing with the automatic landing system engaged.[3]
Sources