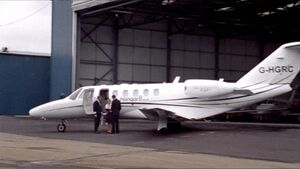 G-HGRC was a Cessna 525A Citation Jet CJ2+
Appearances
Midsomer Murders
Episode 12.02 - The Black Book.
History
Built by Cessna in 2007 as c/n 525A-0360,[1] the aircraft was initially registered as N13474.[2] The aircraft was registered to Hanger 8 Ltd as G-HGRC on 12 October 2007, remaining with Hanger 8 until 6 July 2009, when it was passed to Synergy Aviation Ltd as G-SYGC. On 17 February 2011, the aircraft was acquired by Air Charter Scotland (Holdings) Ltd, becoming G-PEER.[3]
As of midnight on 31 December 2012, the aircraft had accumulated 1580 flying hours. The EASA Certificate of Airworthiness, due to expire on 11 October 2014, was renewed for another year.[2]
References
↑ 2.0 2.1 http://www.caa.co.uk/application.aspx?catid=60&pagetype=65&appid=1&mode=detailnosummary&fullregmark=HGRC