History
Built in 1963.[2]
Thorton Aircraft acquired the airframe from the military, and completed an extensive restoration and certification of the aircraft as a civil aircraft, after which it was registered N638TC. Thorton aircraft leased the aircraft for various projects, including films. One the more interesting appearances is with the Actor Dan Aykroyd, (a Canadian) in the move Dragnet (1987) where towards the end of the movie N638TC was painted to replicate LAPD Police force marking and was used to chase down a Lear Jet with the escaping bad guy.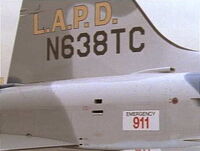 On April 26, 2003 N638TC was used as a chase aircraft for Sino-Swearingen Aircraft Corporation (SSAC) SJ30-2, registration N138BF, serial number 002, which was destroyed when it impacted terrain near Loma Alta, Texas, while undergoing flutter testing for Federal Aviation Administration (FAA) type certification.[3]
Owned by the National Test Pilot School since 27 November 2013,[4] the aircraft is believed to be available for purchase.[5]
Notes
↑ Just visible are the LAPD markings above the registration and under the rear cockpit, added for it's appearance in Dragnet.[1]
↑

This fighter jet is fitted with a 'Fortune Teller' device, which allows it to predict the next move of an opponent in aerial combat.

↑

Marked as a machine assigned to the Air Pursuit Division
Sources